COVID-19 vaccinations
Covid-19 vaccinations in progress for priority groups one to four
Bridge Street Medical Centre, as part of Cantab Primary Care Network, are continuing Covid vaccinations for patients in priority groups one to four: 
Please don't call us to book. We will contact every patient individually when it is your turn.
If you have received a text already, either follow the instructions in the text message to book the appointment yourself, or WAIT FOR US TO CALL YOU.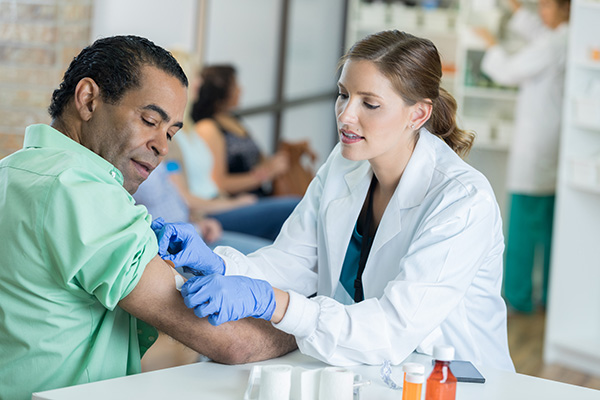 Further information 
How to book your appointment
Eligible patients will be contacted by their surgery team.
If you get a text, and can use the link to book your appointment please do so.  Make sure you read all the information on this page so you know about the vaccination and what to do when you visit the vaccination centre.
We will call all patients who have not booked an appointment themselves  
Why do I have to wait?
Why do I have to wait?
The government has set which groups will get the vaccination, based on those at highest risk of severe illness and those who are most likely to spread the disease.  
The COVID-19 vaccines will become available as they are approved for use and as each batch is manufactured. You will be called in as soon as there is enough vaccine available.
Over the next few weeks and months vaccinations will be offered to other groups. There is a strict order we must follow.
We have no say over that process and cannot make exceptions regardless of medical history or personal circumstances such as shielding.
We understand that there are people who are desperate for a vaccination. Please be patient and please do not contact us.
Keep checking this page for updates
But remember, we will contact you when it is your turn.
Information about the COVID vaccination
Please click on the links below to find out more about COVID vaccinations. 
It is important you do this before you attend your appointment. Clinics will be busy and there will be only a short time to answer your questions.
Visiting the vaccination centre
Cantab COVID vaccination centre is brought to you by Cantab Primary Care Network (PCN).
Cantab PCN is a collaboration between three Cambridge practices:
Red House Surgery 
Bridge Street Medical Centre
We are unable to advertise the location of our vaccination centre here for security reasons. We will provide that information when you have booked your appointment.
Timing
Appointments are booked every minute, so the site will be very busy.
Please arrive on time. Do not be early or late.
Your appointment is five minutes long. There will be limited opportunity to answer any questions you may have. Please make sure you have read the leaflets on the links above.
All patients must wait 15 minutes in the centre after their vaccination. Please make sure you leave promptly when that time is up.
Your visit is likely to take around 25 minutes in total, however it may be longer.
Transport and access
Unfortunately there is very limited parking on site. This will be reserved for blue badge holders. Even if you have a blue badge, please only use the car park if you have no other option. 
All appointments are on the ground floor. There are a few small steps into the building, but assistance is available.
There is a bike rack at the front of the building.
Look for the signs for COVID vaccinations. The entrance for vaccination is NOT the main entrance to the building.
Clothing
There may be a queue to enter the building so consider wrapping up and bringing an umbrella.
Once inside, please be ready to receive the vaccination in the top of the arm. You will need to remove coats, jumpers and long sleeves.
COVID prevention measures
Please attend alone if possible. If you need assistance, one other person may come with you.
You must wear a face covering.
If you develop COVID symptoms (a fever OR a new continuous cough OR alteration in your sense of taste or smell) 
DO NOT ATTEND FOR VACCINATION IF YOU HAVE COVID SYMPTOMS
Wait for us to contact you. We will contact all patients who do not turn up for their appointment.
Your vaccination will not be wasted.
Housebound patients
We are making separate arrangments for patients who are housebound. 
If you receive and invitation for your COVID vaccination at the vaccination centre but you are housebound, WAIT FOR US TO CALL YOU. Please do not contact us. 
We are unable to provide vaccination in your home unless you are truly housebound for medical reasons.  
Your GP practice will have the final decision on whether you are considered to be housebound.
Residents in nursing homes
We will be visiting our local nursing homes to vacccinate patients who are unable to leave the home.
If you receive an invitation to come to the vaccination centre, but are unable to get to us, please speak to your home staff to arrange for a vaccination at the home. Please do not contact your surgery.
If you live in a residential home or in supported living accommodation, you will be expected to come to the vaccination centre.
Second doses
All versions of the COVID-19 vaccination require two doses for full protection. 
The government has specified twelve weeks between the two doses. We do not have the power to change this timeframe. We will contact patients individually to book in booster doses nearer the time.
Published: Jan 11, 2021